I am excited to be participating in the Baptist Missionary Women Blog Hop.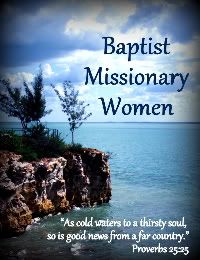 Isn't it fun to learn something new about people?
Here are 5 random facts about me.
1. I do not like coffee.
2. My favorite hobbies are reading, crocheting, and photography.
3. My birthday is on April 1st - that is no joke.
4. I have never gotten a speeding ticket.
5. I love the chips and salsa at Mexican restaurants.
Before you click the link to the next blog, will you leave a comment with an interesting or fun fact about yourself?
Now follow
this link
to visit Lou Ann Keiser at
In the Way
or visit the
Baptist Missionary Women blog
to start the blog hop from the beginning.